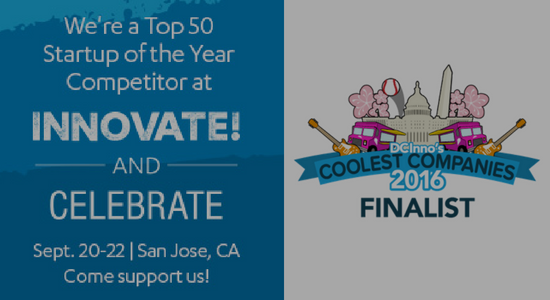 Last week was an incredibly productive and exciting week for HireKeep. On August 21st we received word that we have been accepted into Tech.Co's Startup of the Year Competition and then on August 24th we found out that we are finalists in DC Inno's Coolest Companies Competition.
Unfortunately, both these events will take place during the same week. A portion of The HireKeep team will be traveling to San Jose, California to compete against 49 other startups from around the world. The competition will take place at the Innovate! And Celebrate Conference from the 20-22 of September. The rest of the team will stay in Washington, DC to attend DC Inno's event, DC Fest on September 22nd, where the winner of the Coolest Companies Competition will be announced live.
Paul Murskov, founder and CEO of HireKeep, is more than ready to share his vision with the world. "Our team has worked countless hours and has made tremendous sacrifices to help bring the HireKeep vision to reality. Our hard work is paying off and we feel excited and blessed to have an opportunity to share that with a large number of people. These competitions are not the end all be all. They are simply a stepping stone to show validation in what we are creating. But more importantly, they are showing that there is still room out there for anyone passionate enough, hungry enough, and ambitious enough to step in and change an industry."
The conference will consist of networking opportunities such as cooking demos, comedy shows, and even art workshops. But, the most important events are the two round pitch competitions. On Tuesday, all 50 semifinalists will be given the opportunity to pitch their startup to the judges. Then, 5 companies will be chosen to give 1 final pitch on Thursday and the judges will decide who is worthy of the title of "Startup of the Year."
"Our Startup of the Year Competition is an incredible opportunity for the top 50 semifinalists from around the world to get noticed by top accelerator programs, investors and industry leaders. We're thrilled to be able to continue this program and grow its reach" says Jen Consalvo, Co-founder and COO, Tech.Co.
According to Tech.Co the company that is crowned Startup of the Year gets "first pick of participating accelerator programs, flights, hosting credits, an engraved Tech.Co Chalice, and lots of other great goodies from our partners and sponsors."
If you would like to learn more about what HireKeep, check out our pitch video or watch one of our #PaulTalk videos where Paul dishes out his expert advice on sales, hiring, and much more! If you have any questions for Paul comment on one of our videos or tweet us your question using #PaulTalk.
Voting for DC Inno's Coolest Companies Competition is still taking place!
Please take a moment to cast a vote for us here by Friday, September 16th. DC Fest is open to the public so if you would like to attend and support us, purchase a ticket here.